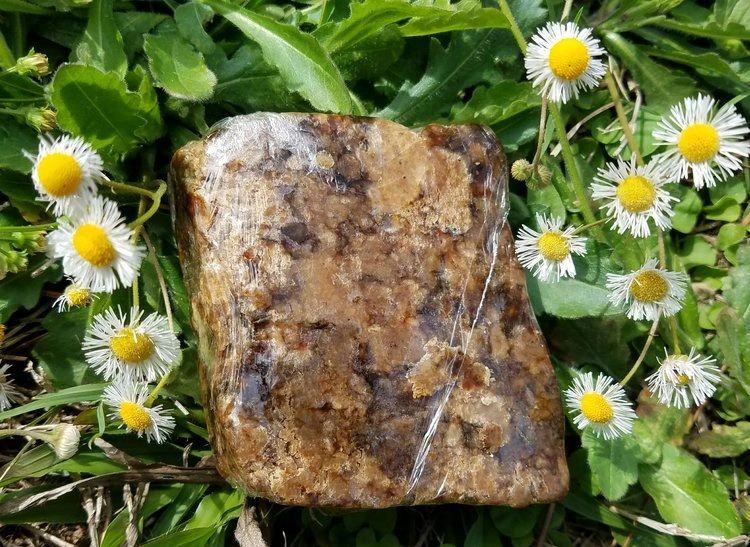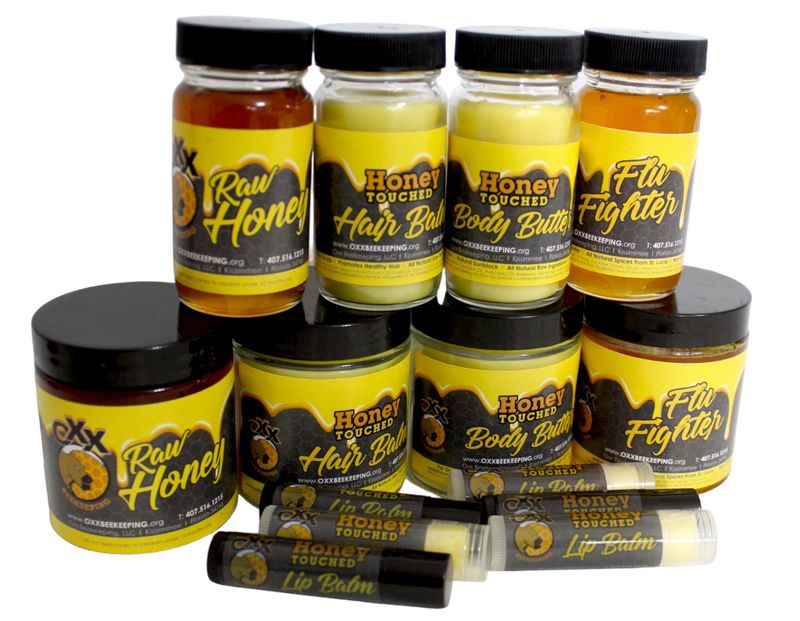 African Black Soap is generally made from locally harvested African plants such as plantain, cocoa pods, palm tree leaves and shea tree bark. The ingredients are sun-dried and roasted which is how it gets its deep color. Water and oils such as coconut, palm, and shea butter are then added. The soap may fade skin discoloration and dark spots. The soap is a gentle cleanser so it's ideal for people with rosacea, rashes, dryness and other skin conditions. African black soap contains plantain extract, which has antibacterial properties that may help treat acne breakouts.
Bee Bread - Bee bread also known as pollen. when the pollen is fermented it contains nearly all nutrients required by humans and it is considered one of nature's most completely nourishing food. It's good for the intestinal flora. Holistic experts has stated it has antibiotic type properties that can help protect the body from contracting viruses. Also rich in antioxidents that protect cells from the damaging oxidation of free radicals. Pollen gathered by bees and stored in comb cells are rich in proteins (approximately 40% protein), free amino acid, vitamins, including B-complex, and folic acid.
Nutmeg - Nutmeg provides relief from insomnia and help to lower blood pressure. It helps to eliminate bad breath, help to dissolve kidney stones, and eliminate toxins from the body.  Nutmeg is beneficial in maintaining optimal brain health, effective against growth of cancerous cells, while helping to reduce inflammation and irritation of skin.
Anise Star - Anise Star has a chemical called shikimic acid. Shikimic acid is used to make the anti-influenza pharmaceutical called Tamiflu. Anise star has potential antiviral properties when combined with quercetin, an antioxidant rich substance.  It is a good remedy for coughs and sore throats. 
Cloves - Cloves has many health benefits. It provides aid in digestion and antimicrobial properties. Cloves help fight against cancer while protecting the live and preserving bones quality.  It contain anti-mutagenic properties. Also displaying aphrodisiac properties, as well as fighting against oral diseases and headaches.
Ginger - Ginger contains a substance called gingerol. It has powerful medicinal properties. Ginger has a very long history and has been used to helped in digestion, reduce nausea and fight flu and common colds.
Cinnamon - Cinnamon is a spice made from the bark of a tree. It has been used in history as far back as the ancient Egyptians. Its loaded with antioxidants that protect the body from damage caused by free radicals. Cinnamon helps the body fight infections and repair tissue damage.
Turmeric - Turmeric contains potential antiviral, anti-fungal, anti-cancer and anti-bacterial properties. It has the ability to halt replication of microbes and viruses. Turmeric could offer therapeutic benefits in treating flu. It's a powerful antioxidants that can fight free radicals that damage the immune system.
Cayenne Pepper - Cayenne pepper is known to have the ability to ease upset stomach, ulcers, sore throats, spasmodic, irritating cough, and diarrhea. An anti-agent and may help relieve allergies. Cayenne pepper can aid in the breaking up and moving congested mucus. Once mucus begins to leave the body the relief from flu systems usually follows next. 
Shea Butter - Shea butter is a skin superfood. It comes from the seed of the fruit of the shea (Karite) tree. It offers uf protection SPF 6 and is naturally rich in vitamin A, E, and F and provides the skin with essential fatty acids. Shea butter also contains the nutrients necessary for collagen production. Over the years shea butter has been used in Africa and other countries to improve skin and hair.
Coconut Oil - Coconut oil is a natural sunscreen and can also treat many skin disorders. It has fatty acids called caprylic and auric that reduce inflammation internally and externally. A natural moisturizer that makes it great solution for all types of skin conditions. Coconut oil will protect the skin with its many antioxidants making it ideal for healing the skin. The antimicrobial properties in coconut oil balances out the candida or fungus sources that can cause many skin conditions.
Avocado oil - Avocado oil benefits include anti-aging and has been used as a treatment to help reduce wrinkles. The antioxidants in avocado will help reduce the appearance of wrinkles, making your skin feel rejuvenated, feel more supple, and soft.
Raw Beeswax - Beeswax is naturally loaded with healing properties. It can help provide relief to an affected area. beeswax protects the skin against environmental irritants. Rich in antioxidants properties which helps in reversing the effects of aging on the skin. Beeswax is totally natural and has no side effects no matter the skin type or age of the individual.
Moroccan Argan Oil - Moroccan argan oil has triterpenoids naturally. Triterpenoids offer amazing health benefits for the skin including the ability to stunt the growth of warts, treat some forms of dermatitis, breaks down tumorous skin cells, and fade scars. The antioxidants and fatty acids in argan oil may also help with treating mild acne and healing of acne-related scarring.
Vitamin E Oil - Vitamin e oil is both a nutrient and antioxidant, It acts as a moisturizer and helps reverse premature skin aging. The antioxidants in vitamin e helps neutralize free radicals which may damage cells. By blocking free radicals vitamin e oil prevents wrinkles. it soothes pain from cold sores while treating sunburns. Vitamin e oil canals act as a cleansing agent. Lighten dark spots, and treat stretch marks.
Raw Honey - Raw Honey combats acne by attacking the bacteria that cause breakouts. the honey will also draw moisture to the skin. The use of honey under the eyes ease swelling and help fade dark circles. Honey is also known to be an all natural remedy for hydrating dull skin and fighting wrinkles. Honey is a natural solution for enlarged pores, rosacea, eczema, hyper pigmentation, sensitive, mature, and lifeless skin.